A Call Center Executive's Guide to Caller ID CNAM Best Practices
I've been a call center executive most of my life. In fact, I started out as a call center intern in 1991 and was promoted to Vice President within six months of starting. It was a small company and I had a bit of a luck with timing. Needless to say, my learning curve was steep. So steep, in fact, that I never looked back because looking back was straight down! And looking down wasn't an option. I was 21, had a 1 year old toddler, and a husband in pharmacy school.
The truth is that I love call center management and leadership. Why? The primary reason is that everything is measurable. And when something is measurable, you can experiment with it to identify how to improve performance.
Caller ID CNAM is one of the elements that can be tested and the different results can be measured. Before you begin to test CNAM, it is important to understand some fundamentals of CNAM data.
The ideal Caller ID CNAM will include the brand name of the company you're representing.
Your brand name listed as the Caller ID CNAM will entice the called party to answer, particularly if your brand is recognizable to the called party. Even if the brand isn't recognizable, the fact that the called party is presented a name lends credibility to the call and increases the likelihood of an answer.
The Caller ID CNAM is stored as 15 characters in the national CNAM database. When the called party's telecom provider receives the call, they do a caller ID lookup in the CNAM database. Today, most Caller ID lookups are free.
15 characters, including spaces, isn't a lot of room. A best practice is to truncate the brand name, if necessary, by removing spaces and/or letters. Here are some examples:
Brand Name
American Family Insurance
Charter Spectrum Cable
Elegantly Fabulous Clothing
Northwestern Insurance Company
Southwestern Roofing & Siding
CNAM
AmericanFam Ins
CharterSpectrum
Elegant FabCloth
NW Insur Comp
SW Roof Siding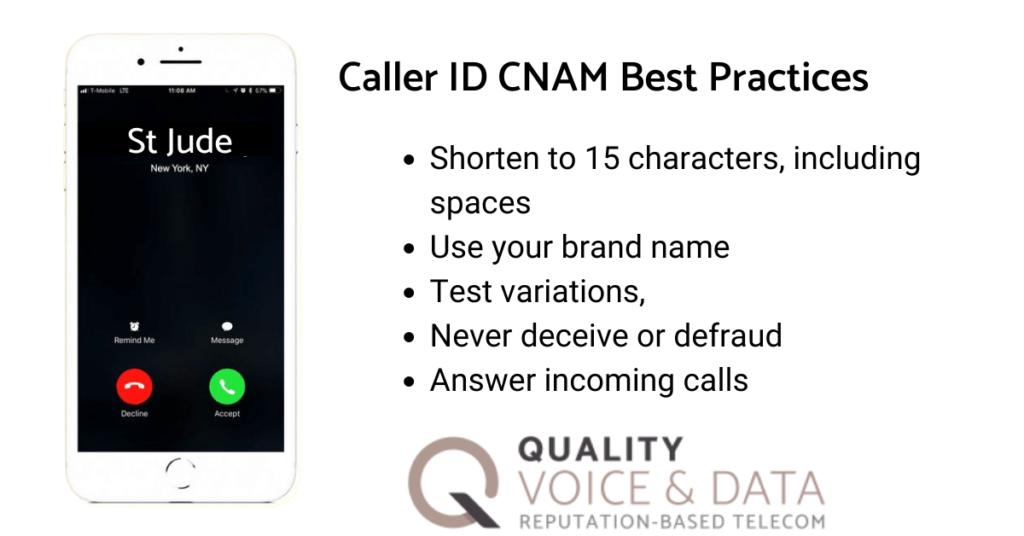 The future of CNAM is rich call data
Caller ID CNAM is quickly moving towards Rich Call Data. What is Rich Call Data? Rich Call Data is additional data that is transmitted in the call header from one telecom carrier to another. Rich Call Data can now include additional information like a brand logo and the purpose of a call. For example, let's say that you're St. Jude Children's Hospital and you're doing a donor outreach to loyal donors. In addition to buying local Caller ID Numbers with a CNAM display of St Judes, in the future you will also work with your telecom carrier to transmit your logo and the call purpose. In this instance, the call purpose could be something like "Loyal Donor Outreach".
Today, Google devices have the capability of receiving and displaying Rich Call data. Quality Voice & Data recently enabled Rich Call Data for one of our BPO clients. For this client, the logo and call purpose were displayed on 12% of their outbound calls. In addition, the answer rate was statistically higher for calls with a logo and call purpose displayed.
Never use CNAM to deceive the called party
There are numerous Federal and State regulations that are applicable to Caller ID and CNAM. The Truth in Caller ID Act prohibits utilizing a Caller ID CNAM that is intended to deceive or defraud. This applies to both business to consumer calls and business to business calls. At Quality Voice & Data we assist our clients with CNAM monitoring to ensure our clients are compliant with both Federal and State regulations.
Can CNAM be a number?
No, the CNAM cannot be a number. CNAM is designed to represent additional information, in addition to the Caller ID.
Do you want to know what your CNAM currently displays as?
The team at QVD can do a CNAM lookup for free. Just fill out our "contact us" form and provide the 10 digit phone number (or multiple phone numbers) and we'll tell you what the CNAM is displaying when you make an outbound call. Or, you can try out our free online CNAM testing tool.
Do you want to know how to fix your CNAM?
Contact your telephone provider and request an update to the CNAM stored in the CNAM database. An update will typically take less than 24 hours to propagate throughout the telecom network in the U.S.
Pro Tip: Answer callbacks to your Caller ID
One of the easiest ways to increase your outbound call answer rate is to ensure that you have staffing to answer incoming calls to your Caller ID. In my experience, it is best to answer these calls as a priority with your best agents (i.e. skills based routing) because it is fairly easy to provide a seamless, positive customer experience when you answer an inbound call from an outbound Caller ID display.
By answering with a live agent, you have an opportunity to personalize the experience and minimize the chance that the customer buckets the call as 'telemarketing' or 'spam'. Even better, if you reward the customer for calling back (i.e. a discount not available to everyone), you'll begin to train your customers that good things happen when they return the call instead of ignoring the call.
For example, let's say that you run an automobile dealership chain with over 1000 locations. You employ a call center team to call to set service appointments. You can experiment with offering a 15% discount to any customer that returns the call from Caller ID or from a voicemail message by (you know that you left a voicemail because it is in the call attempt data and on the customer record). The 15% discount will more than pay for itself if you're able to reduce the number of call attempts needed to reach the customers on average. And you'll see an increase in the appointments to finalized records conversion rate.
Want to learn more?
---
Written by Angela Garfinkel
Angela Garfinkel, Director at Quality Voice and Data, brings over 30 years of experience in call center and business process outsourcing. Well known in the telemarketing and telecommunications industry, she co-authored a course for The Direct Marketing Association and actively participates in professional groups like PACE. Her educational background includes an MBA and an undergraduate degree in Telecommunications Management from the University of Nebraska.