Why do business numbers show up as "spam likely"?
Business numbers often appear labeled as "spam likely" due to protective measures implemented by phone carriers and third-party apps to decrease the volume of illegitimate calls. Automated dialing systems often used by legitimate businesses can be mistaken for spam calling behaviors, causing these numbers to be flagged. Additionally, if your business number was used in a spoofing attack or reported by a small number of consumers after an unfavorable interaction, it can be flagged and labeled as a potential spam risk. This labeling aims to protect consumers from fraud, but it can unintentionally harm legitimate organizations as well. It's crucial to understand these mechanisms to prevent your business calls from being labeled spam.
As an authorized STIR/SHAKEN service provider, we've been instrumental in helping businesses combat the issue of their numbers appearing as "spam likely". We achieve this by assigning outbound calls with A-level attestation, a highest level of validation confirming that the caller has the right to use the phone number. This adds a significant layer of trust and legitimacy to the outbound calls in the eyes of carriers and their spam-detection mechanisms. We also work with our clients to develop a dialing strategy and assign clean outbound DIDs to improve answer rates and reduce the likelihood of "spam likely".
We've helped hundreds of businesses in improving their spam likely designation, maintaining their reputation, enhancing their outbound call connectivity, and ultimately ensuring successful communication with their customers. Try out Caller ID Testing Tool to learn if your business phone number is showing up as spam in real-time.
With QVD's services, businesses can focus on what they do best, leaving the complexities of call legitimacy and attestation to the experts.

Length Of Call
Calls that are less than 10s on average can indicate to carriers the recipients are not interested in your outreach. If that happens often enough, it's a clear signal that of "spam"

Answer Rates
Carriers look at the rate at which calls are answered. This is a good indication of list health and likelihood of spam.

Dialing Velocity
Numbers that makes too many calls too quickly can be flagged as spam likely. If you're making 1,000 calls a day, you're likely using an automated dialer.

Low Attestation Levels
Making outbound calls without an authorized Stir-Shaken providing signing your calls with "A" attestation can have a significant impact on carrier trust.

Cold Numbers
Numbers need to slowly increase their call volumes to build trust with carriers. Carriers use outlier detection to identify numbers with large spikes in call volume.

List Quality
Calls to idle or non-existent numbers is a clear signals to carriers that you're not providing value to your recipients as it's likely a random cohort of consumers and businesses. (notes: *unassigned* / invalid / malformed)
How does "Spam Likely" Impact Businesses?
Clients & Prospects Won't Answer Your Calls
Based on a study run by Quality Voice & Data, over 95% of calls labeled spam likely don't get answered. It's why most businesses partner with an authorized STIR-SHAKEN provider who signs all calls with "A" Attestation.
Bottom Line: Signing calls with "A" Attestation can increase answer rates by over 500%.
Other considerations:
Brand Legitimacy: Whether prospects say it out loud or not, partnering with a business whose number is labeled "Spam" creates question marks about the potential partnership opportunity.
Cost of Wasted Lists: Buying phone number lists can be expensive. If your calls aren't being answered you need to buy up to 10x more contacts to ensure your team is sales team is getting on calls.
Cost of Wasted Time: Each failed dialing attempt can burn up to 30s between ringing, and dialing a number. If you're making 75 calls a day that means you could be wasting over 10 hours a month listening to ring tones & dialing.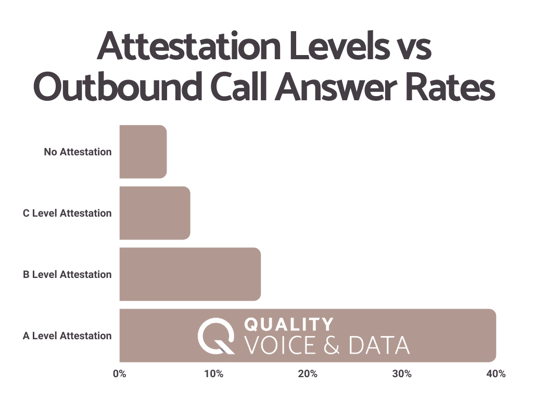 How We Help Our Clients Avoid Spam Likely Designations
Quality Voice data offers a robust STIR SHAKEN compliant suite of solutions, industry expertise, our highest level of Caller ID authentication with real-time Monitoring & Remediation to ensure your calls are not blocked or labeled as spam.
Related Services
Real-Time Phone Number Reputation Monitoring
Local Caller ID
Outbound Calling Strategy & Consultation
Trusted Caller Completion
Request a Free Quote
One of our experts will reach out to you shortly. In a hurry? give us a call at
(888) 656-5111