Elastic SIP Trunking with
Intelligence
STIR/SHAKEN Compliant Elastic SIP

Trunking + Clean Caller IDs = Stop Showing Up as Scam Likely

After processing more than a billion calls in the last year, Quality Voice & Data has emerged as the leading elastic SIP trunking telecom solutions provider to outbound call teams. We were one of the first interconnected VoIP carriers to become a SHAKEN Service Provider.

We terminate calls directly to AT&T, Verizon & T-Mobile. In addition, if we are providing your clean

Local Caller ID numbers

, we sign calls with an A Attestation. If you choose to provide your own Caller ID numbers, we just need a LOA showing that you have the authority to use those numbers. With the LOA, we can also sign the calls with an

A Attestation

.

What does all that mean? Bottom line is that our customers report back to us that they immediately stop showing up as Scam Likely, Scam Likely, or Telemarketer when they call their customers and prospects. Plus more calls are actually delivered to the recipient's device without being blocked as potential spam or scam.

More answered calls equals more profits.
What our Elastic SIP Trunking Includes
A full reporting package for each SIP trunk – ALOC, Answer rate by CID, density match and more.
Google Verify is provided at no additional fee.
Our Switch can send "Notifications" or "Branded API" calls to your mobile app. Let your clients know your calling with LOGO & Reason display.
STIR/SHAKEN with A Attestation on every call.
Delivered a checkmark on TMO, Verizon & AT&T cell phones – confirms their algorithm knows your vetted and not spoofing
STIR/SHAKEN A ATTESTATION
QVD terminates calls directly to AT&T, Verizon and T-Mobile and calls are signed with an A Attestation. This means that each call is verified and shows a checkmark on wireless handsets.
Google Verify
Android phones have a feature known as Verified Calls. The feature displays the caller's name, their logo, a reason why they're calling and a verification symbol.
Mobile App Ready
By utilizing QVD's elastic SIP trunking, our switch can send notifications or branded API calls to your mobile app. Let customers know you're calling with a Logo and a call reason display.
Robust Reporting
Get access to detailed data and insights including Average Length of Call (ALOC), Answer Rate by Caller ID Number, Density Match results and more.
24x7x365 Technical Support
Our Network Operations Center (NOC) monitors the switch traffic to ensure 99.999% uptime. In addition, you get access to U.S.-based technical support 24x7x365.
No Contracts, No Minimums
No contracts and no minimums. $.012 per minute, billed in 6 minimum and 6 second increments.
What Does A Attestation Mean?
When STIR/SHAKEN was implemented and the rules were created, it was determined that each call must be signed as either an A, B or C Attestation. Attestation by the call's origination carrier is in SHAKEN signature. It is essentially communication to the terminating carrier about the trust worthiness of the call.
Attestation means that the telecom carrier knows the customer and knows that the Caller ID number is authorized for use by the customer. It lets the blocking and labeling algorithms know your call is not spoofed!
Attestation means that the telecom carrier knows the customer but does not have confirmation that the Caller ID is authorized for use by the customer. Means your CID may be spoofed – NOT GOOD!
Attestation means that the telecom carrier does not know the customer and does not have confirmation that the Caller ID is owned by the customer. Your call will be blocked.
How much does QVD's Elastic SIP Trunking Telecom Service Cost?
There are 2 fees associated with our Elastic SIP Trunking telecom service.
1. First, each client must complete and submit a Trusted Call Completion application. The application fee is $750.00. The Federal Communications Commission (FCC) requires each SHAKEN Service Provider to vet each client and know who the Ultimate Beneficial Owner of the business is. This is why so much weight is placed on SHAKEN calls. The $750 application fee covers a portion of our cost for vetting administration.
2. Second, QVD clients that utilize our Elastic SIP Trunking are invoiced at $.012 per minute, billed in six minimum and 6 second increments.
Optionally, QVD clients can purchase Local Caller ID Numbers and Monitoring & Remediation services. Using our full suite of solutions helps ensure the highest possible answer rate for your outbound call programs.
Let us discuss your specific, unique needs with you today. Click here to schedule a call with Steve Eveland, VP of Sales.
Request a Free Quote
One of our experts will reach out to you shortly. In a hurry? give us a call at
(888) 656-5111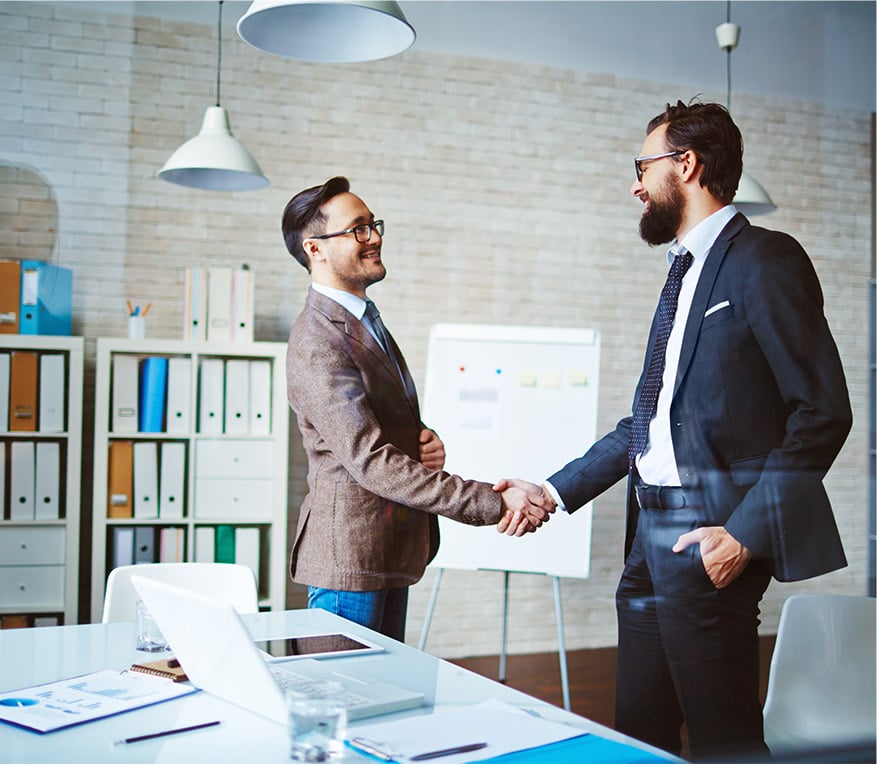 (%) Increase in Answer Rates
Sign Up for Newsletter
Get the latest in outbound calling strategies & FCC regulations