By Dean Garfinkel, President of Quality Voice and Data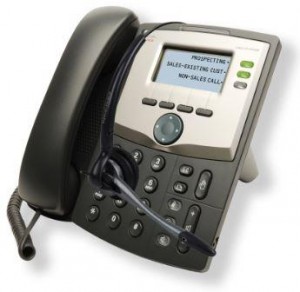 If you place telemarketing calls to wireless phone numbers (and VoIP numbers), be aware that you must place the calls using a non-Automated Telephone Dialing System (non-ATDS) or device. The Federal Communications Commission's Telephone Consumer Protection Act (TCPA) declaratory ruling issued in July 2015 provided clear guidance on what is an Automated Telephone Dialing System (ATDS) and what is not. Most telemarketing dialers, most office phone systems and most click to dial solutions embedded in a CRM are currently defined as an ATDS because even if the system doesn't dial phone numbers automatically, these systems are viewed by the FCC as having the theoretical capacity for automated dialing.
At the recent PACE Legislative Conference in Washington DC Quality Voice & Data launched it's latest product "The Compliance Phone". The Compliance Phone™ is a standalone non-ATDS telephone that sits on a desk and is connected to the internet. The phone requires the user to physically dial each phone number and it is not integrated with any CRM or other computer system. When used to place sales calls to prospects (consumers or businesses), The Compliance Phone™ ensures TCPA compliance when used to place calls to wireless (and VoIP) telephone numbers. Specifically, sellers do not need prior express written consent (PEWC) to call their customers, former customers, or even prospects when using this phone device.
The market place already has many non-ATDS systems available for contact centers but The Compliance Phone™ is unique because it was designed to fill a gap in the marketplace. As a stand-alone device it can be easily and inexpensively deployed in small numbers in a contact center or individually across multiple regional locations. This solves the problem for many Banks, Insurance Companies and others who have branch office across the country with one or two professionals who need to contact customers. It also allows a contact center that may only need 5 or 10 seats to quickly and inexpensively deploy non-ATDS telephones.
With the increase in class action lawsuits and the potential liability and risk for a business, every organization that places telephone calls to current customers, former customers or prospects needs a compliant solution for placing the calls. The TCPA provides a private right of action where an individual can sue for up to $1,500 per phone call. Class actions fueled by vexatious litigators have been popping up in large numbers over the last 2 years.
Backed by a rock solid 288-page legal opinion letter, The Compliance Phone provides its users with assurance that the phone is absolutely compliant with the TCPA as a non-ATDS device. The opinion letter is provided by TCPA attorney Michele Shuster, managing partner of MacMurray, Petersen & Shuster LLP and is based on a detailed review of The Compliance Phone technology by IP Attorney Ms. McCarthy of Barnes & Thornburg LLP.
The Compliance Phone provides a suite of features, including call recording, call tracking, and call transfer. For organizations that desire a fail-safe Do-Not-Call blocking tool, The Compliance Phone is inter-operable with Gryphon Networks' patented Do Not Call blocking technology providing real time screening of all dialed calls, against each customer's defined compliance rules and lists. For example when used for prospecting it can automatically block calls made to numbers on various DNC lists, in-house DNC list as well as an existing customer number list.
The Compliance Phone is easy to set up. Just plug it into any Internet Router and power. It is so easy to use and is designed for any organization that wants a simple, absolutely compliant solution for allowing their sales reps to place calls to wireless phone numbers. Of course, landline numbers can be called also, making this a universal solution for placing all telemarketing sales calls.
Dean Garfinkel is the President of Quality Voice & Data, a leading enhanced telecom solutions provider to the telemarketing and call center industry. Dean's passion for creating value-added solutions for his clients has resulted in numerous solutions which are industry-standard and used by most Fortune 500 call centers and their call center vendor partners. Dean can be reached at dean@qualityvoicedata.com or 516.656.5115.