So you are asking, Why does my phone number show up as spam?
Why Scam Likely is a Call Center Problem
One of your call agents dials a prospective customer. The phone rings, but the person on the other end of the line doesn't pick up...
This scenario plays out in call centers across the country every day, making it difficult to execute outbound marketing campaigns. The problem is that a customer might be interested in your products and services, but their caller I.D. shows "scam likely," "spam likely," or "spam risk"—even if an agent is calling from a legitimate business.
This phenomenon presents a massive challenge for call centers like yours. Agents want to connect with prospective customers over the phone but can't, impacting revenue and your business reputation. In this blog post, learn how to protect your phone number from coming up as scam likely.
Robocall Scams, Explained
According to the most recent statistics from the Federal Communications Commission (FCC), Americans received nearly 4 billion robocall scams per month in 2020. These unsolicited, unwanted communications contain prerecorded messages that catch the call recipient's attention. For example, a robotic voice might warn someone about a fake outstanding tax bill in their name and convince the person to hand over their financial details to settle the debt.
Robocalls are not illegal. However, robocall scams are always nefarious, conceived to steal personal and financial information from the person on the other end. The criminals who carry out these scams use the latest technology, such as call spoofing software, to trick people into answering the phone.
How Does "Scam Likely" Reduce Robocall Scams?
Robocall scams are dangerous, and many victims have lost large sums of money to fraudsters over the phone. That's why phone carriers have implemented various tools and technologies to protect their customers and satisfy the government. (The FCC receives more complaints about unwanted phone calls than any other consumer issue.)
In 2016, the FCC created a robocall task force that identifies new ways to recognize spam callers and provide consumers with peace of mind. The task force eventually established a telephony framework called STIR/SHAKEN—a suite of protocols to combat caller I.D. spoofing on telephone networks. In addition, the FCC awarded telecom companies 'safe harbor' for labeling potentially unwanted calls or blocking these calls altogether. However, consumers don't have a say about which calls are blocked or labeled as "spam likely," so many legitimate businesses can be caught in the crossfire and incorrectly identified as scammers.
How Does STIR/SHAKEN Impact Legitimate Businesses?
It's good that the FCC has taken steps to address the monumental problem of robocall scams. However, many genuine businesses now can't connect with prospective customers because of call blocking and labeling.
Some legitimate companies that use an auto-dialer (i.e. a predictive dialer or power dialer) to increase agent productivity in their outbound marketing campaigns might show as "spam likely" on a potential customer's caller I.D., creating hurdles for sales agents carrying out their day-to-day jobs. Because an autodialed call often looks like a robocall to a telecom carrier, telecom carriers often mistakenly block or label legitimate calls as "spam likely." The likelihood of customers receiving these warning labels increases when a legitimate company makes a large volume of call attempts over a short period of time — a legal and common practice in the telemarketing industry. In addition, we're also seeing some small and medium businesses that are not using autodial technology experiencing call blocking and labeling when they try to reach their customers and prospects with a phone call.
So, how can businesses like yours resolve these issues?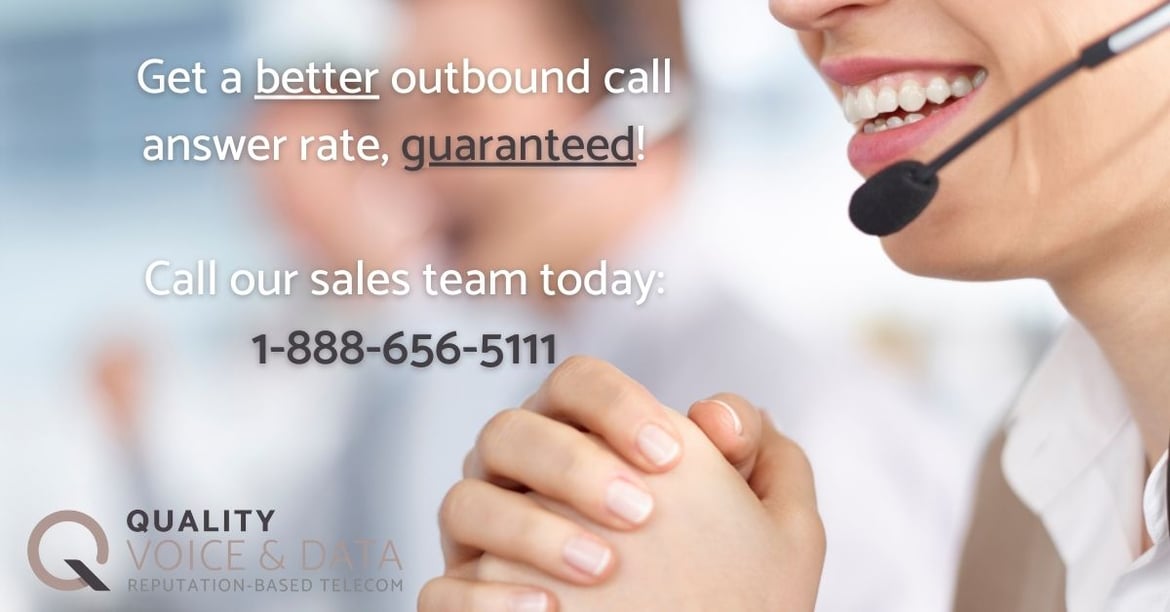 How to Protect Your Phone Number From Coming Up as Scam Likely
"Scam likely" labels cause multiple problems for genuine businesses relying on outbound marketing to boost revenue. Yet, there are various ways to protect phone numbers and get through to prospective customers:
Understand Some Common Sense Principles
Each phone carrier has a different system for labeling and blocking potentially unwanted phone calls. The good news is that you can generally protect your phone number from coming up as scam likely if you follow some common sense principles.
When beginning an outbound campaign, start with a small number of calls to "warm up" your outbound Caller ID number(s). Avoid making a large volume of calls from a Caller ID number if you haven't previously used the number for your call campaigns.
Don't call the same prospect or customer too many times in a day. Also keep in mind that there are some states that regulate how many calls you can place to a person within specific timeframes.
Don't crank up your dialer. If your team is experiencing a low answer rate, turning up the dialer speed is not a good answer to the problem. Dialing faster may result in more blocking and labeling by the carriers.
Ensure Your Caller ID DID Provider Registers Your Numbers
Registering your phone numbers in the National CNAM Database will reduce the chances of carriers flagging or blocking your calls. Quality Voice & Data registers each Caller ID Number assigned from our database with a 15 character CNAM. In addition, for clients that subscribe to our Monitoring & Remediation product, we actively monitor every Caller ID number and notify clients when a number is being blocked or labeled by the major carriers; typically resulting in a swap-out of the Caller ID number with a replacement. If needed, we also perform remediation when it isn't an option to replace a number.
Use Multiple Numbers
A good rule of thumb is to use one Caller ID Number for every 1000 records in your outbound call list. So for example, if you have 50,000 numbers in your outbound call list, consider using 50 different Caller ID DIDs. Our team of experts will help you right-size your Caller ID number order and provide best practices for how to append the Caller ID numbers into your list before loading into your dialer. Some dialers even have a matrix method where the Caller ID number is pulled from a table based on the customer or prospect's area code. If you don't use a dialer, we have a solution for that too. Give us a call and ask about our PBX and Call Sanitizer products.
Improve Call Etiquette
Potential customers might report your business to their phone carrier or an online database if they receive poor customer service or mistakenly believe you are trying to scam them. To avoid this problem, improve call etiquette in your call center and train agents to keep conversations polite and respectful of customers' time. In addition, the more professional your outbound call center agents are, the longer the potential conversation. Believe it or not, the telecom carriers analyze the average length of call (ALOC) to determine if a business is placing unwanted calls. The shorter the ALOC, the more likely the business is penalized with blocked or labeled calls.
Use Quality Voice & Data
Quality Voice & Data (QVD) delivers your calls with complete attestation and reduces the likelihood carriers accidentally block your numbers or mark them as spam. As an authorized STIR/SHAKEN provider company, QVD guarantees to improve call answer rates, helping you reach more potential customers.
Final Word
Because of STIR/SHAKEN, phone carriers now have the tools and the authority to address the ongoing problem of robocall scams. Unfortunately, many genuine businesses are having their numbers blocked or marked as spam. Protect your phone number from coming up as spam likely by using some common sense when dialing, ensuring your Caller ID numbers are registered in the National CNAM database, using multiple numbers, improving call etiquette, and using Quality Voice & Data, STIR/SHAKEN Service Provider that has more than 100,000 Caller ID Numbers in our inventory.
Google Verified Calls Delivers a Verified Business Name, Logo, and Call Reason
Google verified calls is the latest solution for giving customers more information about who is calling. Quality Voice & Data is delivering calls today with rich call data enabled, facilitating customers that use Google's Phone app, including most Android phones, to see the business name, a logo and the reason for the call. It's called Google Verified Calls.
Do you need help with protecting your Phone Number from coming up as Spam Likely? Schedule a no-obligation consultation today. Or Contact Us to learn more about our suite of services that increase outbound call answer rates, including minimizing blocking and labeling.
Angela Garfinkel currently serves as Director for Quality Voice & Data. With 30+ years of call center and business process outsourcing experience, Angela provides the QVD team with key insights to support product development, marketing and sales.
---
Written by Angela Garfinkel
Angela Garfinkel, Director at Quality Voice and Data, brings over 30 years of experience in call center and business process outsourcing. Well known in the telemarketing and telecommunications industry, she co-authored a course for The Direct Marketing Association and actively participates in professional groups like PACE. Her educational background includes an MBA and an undergraduate degree in Telecommunications Management from the University of Nebraska.