By Angela Garfinkel, Director

Hosted dialers have become the call center and outbound telemarketing industry norm. Unfortunately, most hosted dialers also charge a premium rate per minute when you use their telecom service. Many savvy telecom engineers know that the solution called Bring Your Own Carrier (BYOC) will give you more control and save you money in the long run.
Before you get locked into a walled, 10-foot-tall agreement with your hosted dialer, be sure you have the option to Bring Your Own Carrier, even if you don't exercise that option on day one.
What is Bring Your Own Carrier?
Bring Your Own Carrier (BYOC) is a program that lets you choose, contract with, bill and manage voice services directly with a telecom carrier like Quality Voice & Data.
Why would you want to do this? Simply put, cost savings, increased control over your telephony and the ability to work directly with the carrier without going through a third party.
Consider Bringing Your Own Carrier under these scenarios
Bringing your own carrier offers flexibility with your call center operations, but it may not necessarily be the best option. However, these scenarios deserve a deeper dive from your team.
Your hosted dialer doesn't offer the ability to utilize Local Caller ID Numbers on a per call basis. Consider bringing your own carrier if your hosted dialer telecom solution doesn't give you the ability to utilize local Caller ID numbers.
Your hosted dialer company is charging too much per minute and is not competitive. It is no secret that most hosted dialer companies make 200% to 300% profit on the telecom services they bundle with the seats. Unbundling the telecom and BYOC can save you significant money in both the short term and the long term.
Your actual situation will vary, but it behooves you to perform your due diligence by making a cost comparison of going BYOC versus not. Your bundled package may still be the best bet with your hosted dialer.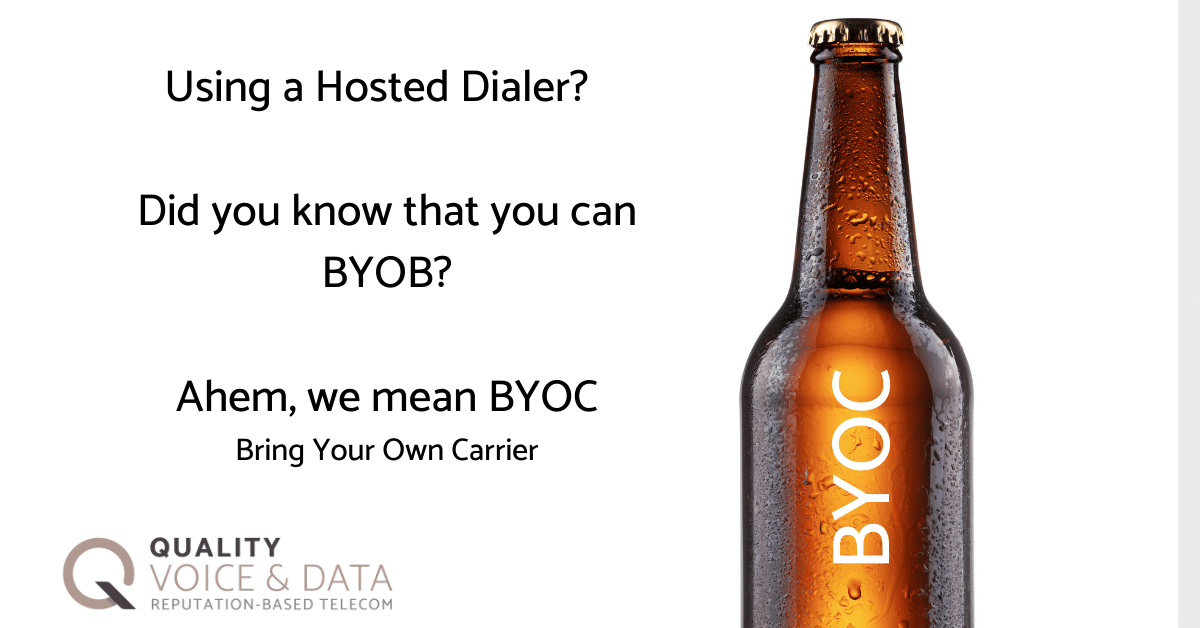 Benefits of BYOC for your call center operations
Bring Your Own Carrier offers flexibility and so much more. When bringing your own carrier to a hosted dialer, your call center will reap three main benefits:
1) Lower overall costs
You've invested training, time, and money in your chosen carrier. Your leadership staff and managers already know how to work with your carrier to solve problems. If you don't BYOC for a hosted dialer, everyone may need to be retrained on troubleshooting issues.
2) Better access to local Caller ID Numbers
Bringing your own carrier means you have an opportunity to work with a company like Quality Voice & Data that specializes in providing both Elastic SIP Trunking and Local Caller ID Numbers. Outbound answer rates will vary significantly depending on your Caller ID strategy.
3) Maintaining flexibility and control
This is probably the most significant benefit of bring your own carrier. You can manage phone numbers, SIP trunking, implement changes, and provision numbers through your chosen carrier without changing processes with your hosted dialer's carrier. You also maintain complete control of routing calls while maintaining least cost routing in the various markets. In addition, Bring Your Own Carrier allows you to shop around for the best carriers independently of your hosted dialer as your needs progress.
As a SHAKEN Service Provider, QVD is a Great Bring Your Own Carrier Option
Quality Voice & Data (QVD) provides Trusted Call Completion®, including elastic SIP trunking for call centers, outbound teleservices (sales) organizations, and other legitimate companies that need to contact existing customers or prospects. QVD's customers need a telecom carrier that is a SHAKEN Service Provider that can sign their calls with an A Attestation.
Our team can help you resolve many contemporary, complex issues facing call center operations. Call (888) 656-5111 or contact us for more information.
Angela Garfinkel currently serves as Director for Quality Voice & Data. With 30+ years of call center and business process outsourcing experience, Angela provides the QVD team with key insights to support product development, marketing and sales. In addition, Angela teams up with Dean Garfinkel for strategic planning and leadership development. In addition to founding Quality Contact Solutions in 2007, Angela also co-authored an online course for The Direct Marketing Association (DMA) called Teleservices. Angela's formal educational background includes a Masters in Business Administration and an undergraduate degree in Telecommunications Management from the University of Nebraska.