By Angela Garfinkel, Director
CNAM Caller ID 2022 Refresh
When you think about CNAM Caller ID for your high-volume outbound call campaign, there are some principles that you need to be aware of. We've written about these principles in numerous other blog posts over the years. However, in 2022 the principles deserve a refresh; just like your CNAM Caller ID strategy needs a refresh from time to time.
Storage in the National CNAM Database
The first principle that is an absolute certainty is that each ten-digit DID Number must be stored in the National CNAM Database. Storage in the National CNAM Database ensures that the major carriers like AT&T, Verizon, and T-Mobile will lookup the Caller Name you want to display.
A ten-digit DID Number must always be stored in the National CNAM Database to ensure that the Caller ID Name (CNAM) accurately displays on the end users' devices when the called party's telecom provider does a CNAM Caller ID lookup. In short, CNAM complements the Caller ID that displays when a customer or prospect receives your call.
Professional Consultation Assists with Improved Answer Rate
As a premium DID provider, Quality Voice & Data provides high-value consultation to each customer. The consultation includes identifying which DIDs a customer should utilize (in which area codes and how many), the best way to decrease the likelihood that a DID is blocked or labeled by a carrier, and what CNAM is most likely to get a high answer rate.
Also, don't overlook the value of answering incoming calls to your Caller ID numbers using a real person – not an IVR or voicemail box. It's true that some of the calls may be individuals that want to complain about the call or ask to be placed on your company's Do Not Call list. However, some of the calls are people that may have a legitimate need for your products or services. Some people never answer their phone, but they will return a call that is in their missed calls list. It's better to answer their incoming call vs. trying to call them over and over again without a contact.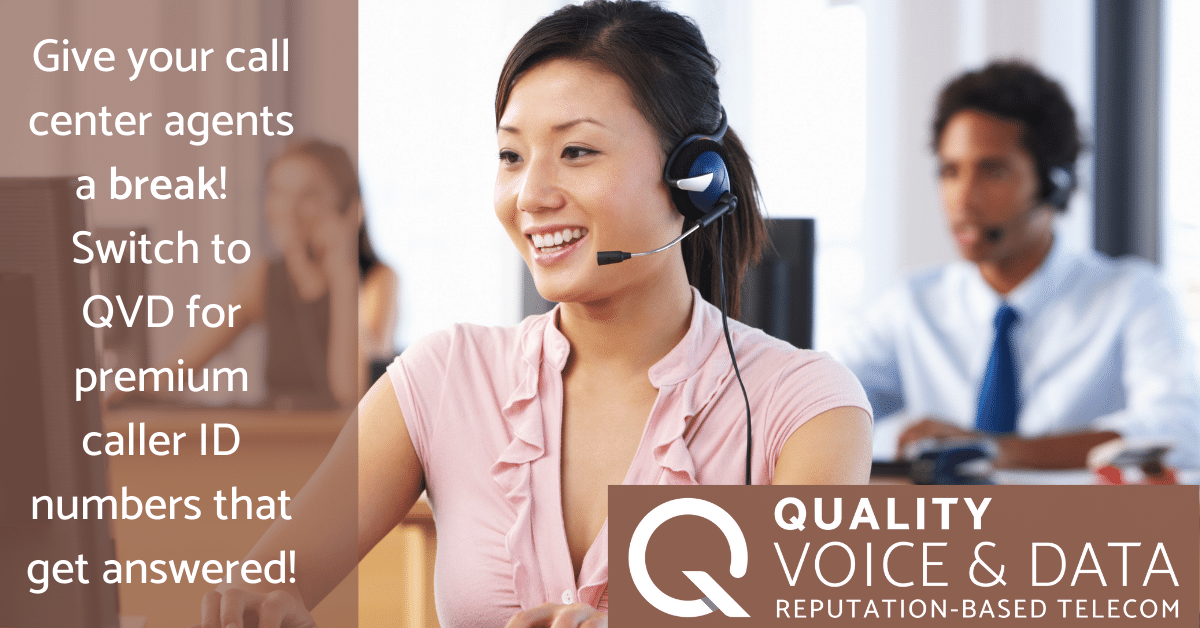 CNAM Caller ID Fraud is Illegal
CNAM must never be used to defraud a consumer or business decision-maker. In other words, the illegal callers that use IRS as their CNAM are just that – illegal. However, it is completely legal to utilize a Caller ID CNAM that includes your company name or a product name. And, if you're a BPO or outbound call agency making calls on behalf of a client organization, it is acceptable to utilize the client's company name or product name.
CNAM Caller ID Improved with Google Verified Calls
CNAM Caller ID in 2022 has undergone a major facelift with the implementation of Google Verified Calls. Any Android device user has access to this feature. We believe the future of CNAM Caller ID is moving in this direction.
Decreased labor costs and Improved Contact Rates
The largest cost born by a high-volume outbound calling team is the labor cost. All in, when you factor hourly labor rates, discretionary and non-discretionary benefits, and taxes, the cost is 50% to 75% of your hourly outbound calling cost. It stands to reason that every tool should be deployed to increase the number of contacts your team makes on an hourly basis.
The cost for utilizing premium DID numbers with proper CNAM Caller ID management is miniscule in comparison to the cost of agents dialing without speaking to anyone. We're offering a free Caller ID Search report for your current DIDs. Give us your current DID list, and we'll tell you what CNAM is stored in the National CNAM database. We'll also tell you which DIDs have a positive or negative reputation.
Angela Garfinkel currently serves as Director for Quality Voice & Data. With 30+ years of call center and business process outsourcing experience, Angela provides the QVD team with key insights to support product development, marketing and sales. In addition, Angela teams up with Dean Garfinkel for strategic planning and leadership development. In addition to founding Quality Contact Solutions in 2007, Angela also co-authored an online course for The Direct Marketing Association (DMA) called Teleservices. Angela's formal educational background includes a Masters in Business Administration and an undergraduate degree in Telecommunications Management from the University of Nebraska.