Are you considering a Caller ID Test?
A Caller ID Test is a very low-cost way to identify if your Caller ID is getting you the best possible results
A Caller ID Test is one of the most simple, low-cost tests to conduct when running an outbound call campaign. A Caller ID Test is easy and inexpensive. Our expert team of provisioners will set you up in 15 minutes or less.
There are multiple types of tests you can conduct. Here is our list of the top 3 tests you can do easily and affordably:
#1: Test to replace an 8xx number
If you're still using an 8xx number as your outbound caller ID number, it is imperative that you stop doing that. Consumers and business decision-makers have been trained through experience that most calls from an 8xx number are telemarketers. Consumers with a Caller ID App will be notified that it is 'spam likely' if you're placing a high volume of calls with a short call duration. And, most importantly, with an 8xx number, you don't get the benefit of displaying your CNAM (15 characters for your name display).
Consider swapping out the 8xx number for a toll number with CNAM and you'll see your answer rates increase immediately.
#2: Test to increase number of phone numbers utilized for Caller ID
If you're using a single phone number for Caller ID, consider a Caller ID Test where you utilize between 80 and 200 telephone numbers with CNAM. A professional Caller ID provisioning company like Quality Voice & Data will assist you with determining how many phone numbers, which phone numbers, and which area codes you should utilize for the Caller ID test. In addition, a company like QVD will identify any area codes where you should have more than one telephone number for Caller ID (high density area codes).
It's easy to either append these Caller ID numbers to your outbound call list for your dialer to ingest. Many dialers even have the capability to utilize a lookup table to identify which Caller ID to utilize for each dialed telephone number.
#3: Test utilizing a different phone number provider
The 3rd Caller ID Test to consider is testing a different telephone number provider. All phone numbers are not created equal. For example, here at Quality Voice & Data we maintain a very large inventory of Caller ID numbers. This is to ensure we have numbers available in every area code in the US. In addition, we continuously monitor our database of numbers against the most common databases used by Caller ID Apps. This is to ensure that they do not have a negative reputation. Because we hold numbers in inventory for a long period of time, each QVD Caller ID number starts with a positive reputation. New assigned numbers typically start with a neutral reputation. We can also check your current Caller ID numbers (for free) to tell you if your existing numbers are being blocked or labeled. We call this a Caller ID Lookup.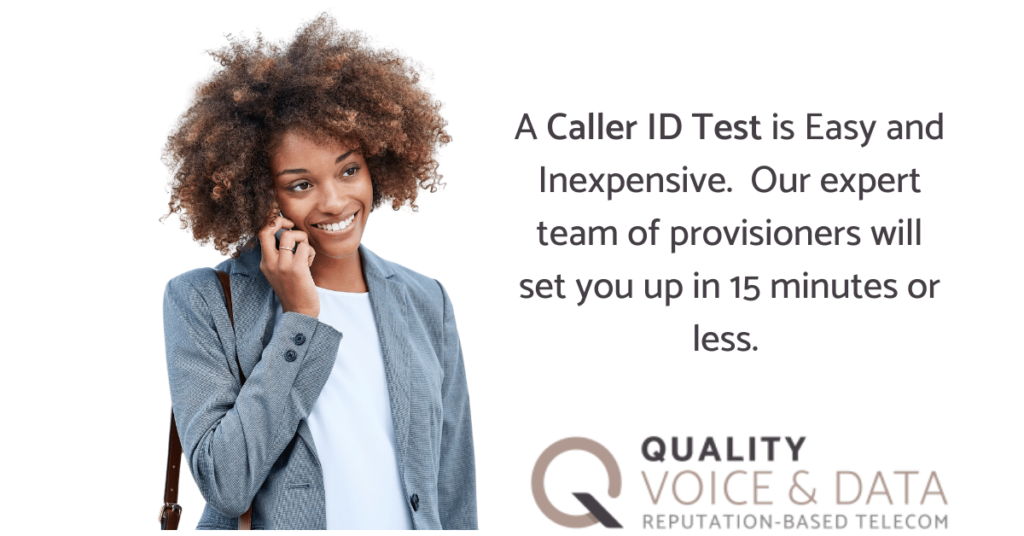 Angela Garfinkel currently serves as Director for Quality Voice & Data. With 30+ years of call center and business process outsourcing experience, Angela provides the QVD team with key insights to support product development, marketing and sales. In addition, Angela teams up with Dean Garfinkel for strategic planning and leadership development. In addition to founding Quality Contact Solutions in 2007, Angela also co-authored an online course for The Direct Marketing Association (DMA) called Teleservices. Angela's formal educational background includes a Masters in Business Administration and an undergraduate degree in Telecommunications Management from the University of Nebraska.