STIR/SHAKEN without storing your Caller ID (CID) telephone numbers in the national CNAM database is only partially effective
Technically speaking, storing telephone numbers in the national CNAM database is not a requirement for STIR/SHAKEN implementation. However, savvy telecom managers know that using an effective Caller ID phone number strategy plus a STIR/SHAKEN telecom provider maximizes outbound call answer rates.
If this is true, (and it is), then why do some companies fail to implement a Caller ID phone number strategy for outbound call campaigns? Most telecom carriers do not offer the depth and breadth of solutions and analytics to meet the needs of high-volume outbound callers. This includes marketers, sales teams, collections teams, and political operations. Many telecom carriers sell dial tone, but it is not easy to procure the necessary volume of CIDs to minimize call blocking and labeling when delivering calls to downstream carriers.
Since 2010, Quality Voice & Data has been a local Caller ID Management company. We sell local Caller ID numbers for $2 per number per month and we include customized recommendations for each client's Caller ID strategy and performance analytics. We also directly store and maintain each Caller ID number in the national CNAM database.
Why is storage in the CNAM database important?
When a CID has a paired display name, this is a signal to consumers that they can trust the call. Similar to KYC (know your customer) requirements for STIR/SHAKEN, a display name screams that your telephone company knows who you are. You have an address, legal corporate name, and your company receives/pays for the use of the displayed telephone number. Telephone companies store these display names – scammers don't push them.
As another example, let's say that you are a national healthcare insurance company and you need to inform existing customers about a change that will impact their benefits. You load the customer list in your dialer and use an 8xx number as the Caller ID number. 8xx numbers can't store a name in the CNAM database, so your calls get a low answer rate. This is because customers ignore the call, or worse, carriers like AT&T, Verizon, or T-Mobile may label the call as "Spam Likely." A low answer rate means missing your campaign goals and potentially frustrating your customers because they are not receiving your communications.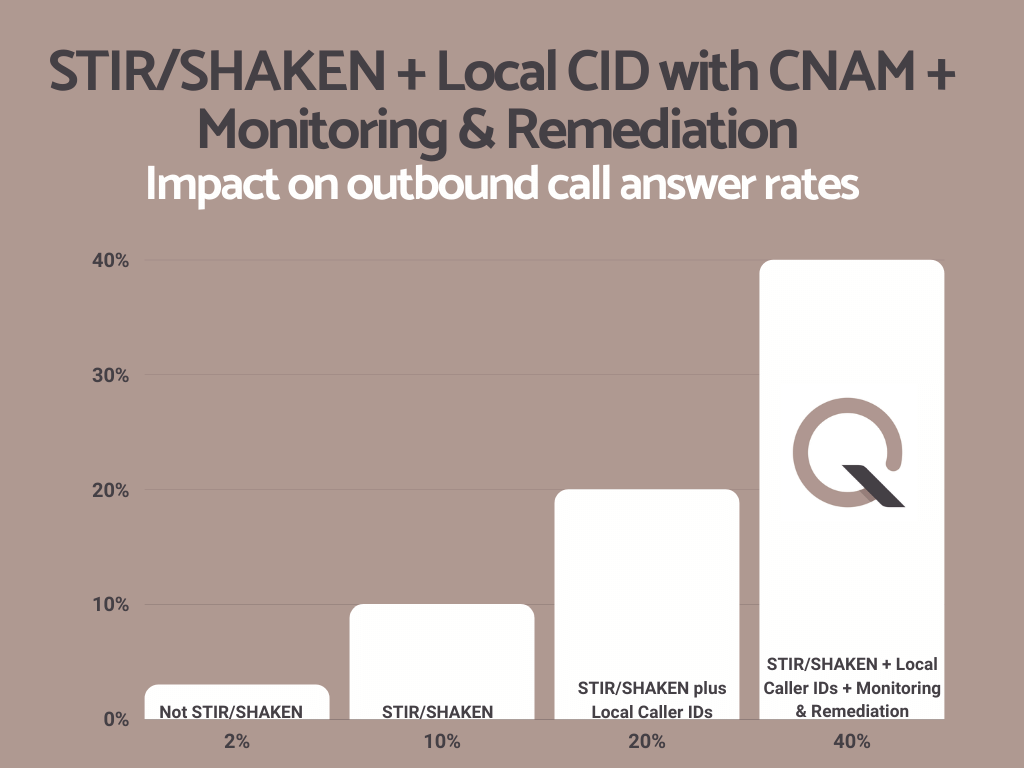 Why is the call answer rate important?
Aside from the obvious benefit of a high call answer rate, there is a significant secondary benefit as well.
Each time a consumer answers your call, it is a signal to telecom providers and call analytics algorithms that your call is a trusted call. The trust meter goes up even more if the call is not a short duration call. In other words, the consumer answers your call and the call lasts for more than 30 seconds. A high volume of short duration calls signal to telecom carriers that your calls are spam (or unwanted) calls.
Want to learn more about maximizing outbound call answer rates and avoiding blocking or labeling on your calls?
Contact us today:
Find out if your calls are tokenized (signed):
---
Written by Dean Garfinkel
Dean Garfinkel is the President of Quality Voice & Data, an Authorized Shaken Service Provider enhanced telecom solutions provider to the telemarketing and call center industry. Dean's passion for creating value-added solutions for his clients has resulted in numerous solutions which are industry-standard and used by most Fortune 500 call centers and their call center vendor partners. Dean can be reached at dean@qualityvoicedata.com or 516.656.5115.