Want to increase answer rates? Here's a scenario: Today I received a call from a number I didn't recognize. Like most of us do, I declined the call. Thirty seconds later, my phone chimed, indicating that I had a new voicemail. While listening to the message, I let out an audible "ughhhhhhh" as it was an important call that I had been waiting for. It made me really frustrated.
Why should my frustration matter to you? Because I'm your customer.
But I'd imagine that the frustration doesn't start or end with me. As a call center you'd feel it, too. Let's look at how my unanswered call affects the call center at a high-level.
Agents: how many calls have they made in a row that have gone unanswered?
Supervisors: even though they've made changes to their dialing strategy to increase the answer rate, nothing seems to help.
Call center clients: they wonder what's changed and why the call center isn't producing the results they used to.
Call center senior leadership: they are concerned with the long-term impact of a declining answer rate. Will they lose business, will their brand reputation be impacted, and will they start experiencing higher than average attrition because agents aren't hitting their goals and aren't satisfied with their job.
There are simple solutions call centers can implement to increase their answer rates and provide a better customer experience for their customers and clients all while protecting their reputation as a business. It starts with the STIR/SHAKEN framework.
Answer rate impacts customer experience and reputation
Robocallers, spammers, caller ID spoofers, and fraudulent callers have negatively impacted the call center industry's reputation. Hence, the development of the STIR/SHAKEN framework.
Call centers are seeing a decline in answer rates. Because of a small percentage of bad actors, consumers have stopped answering calls from numbers they do not recognize. It's reported that Americans only answer half of the incoming calls they receive to their mobile phones because they can't verify their legitimacy.
Other factors that impact answer rates are:
Not using a local presence Caller ID strategy.
Purchasing Caller ID numbers with a bad reputation from brokers and resellers.
Having blocked or flagged phone numbers without timely insights.
Poor brand reputation for your clients as a result of negatively tagged and blocked calls.
Non-tokenized (digitally signed) calls without full (A) level attestation. This is a failure to meet the STIR/SHAKEN standards.
Restoring consumer trust and protecting your reputation go hand in hand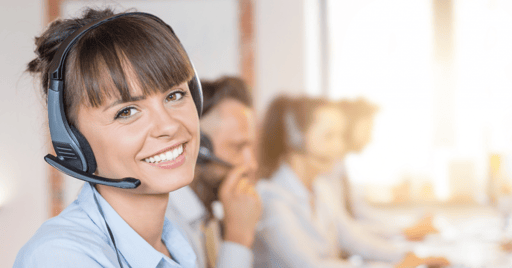 Your call center has the best chance of succeeding if you or your clients have a recognized and trusted brand. But how do you use this to increase answer rates?
TRUSTED CALL COMPLETION® by Quality Voice and Data
Quality Voice and Data specialize in reputation-based telecom services. We focus on helping clients increase answer rates with targeted solutions.
STIR/SHAKEN basics
The guiding principle behind the STIR/SHAKEN framework requires authorized SHAKEN Service Providers (aka Telephone Companies) to digitally sign their customers' calls. This ensures, most importantly, that carriers know who their customers are. Ultimately, the goal is to help restore consumer trust in voice communication by weeding out spam and illegal robocalls.
As an authorized SHAKEN service provider, Quality Voice and Data authenticates outgoing calls with an A attestation level. This is the highest level of trustworthiness and what call centers want. An A attestation level indicates that your calls are legitimate and that you have the right to use the caller ID information presented to the customer.
Becoming a trusted caller is a critical step in protecting your reputation and increasing answer rates. Without it, your outbound calls won't be verified as legitimate and will continue going unanswered.
Caller ID Mapping
In short, people are more likely to answer the phone if they know who is calling them. QVD can display the business name and phone number so the recipient can pick up the phone and have confidence it's a trusted source.
QVD maintains a robust inventory of telephone numbers in every market that are vetted in real-time against a leading authentication hub. We offer this to avoid blocking/ labeling as spam.
Realtime Monitoring & Remediation
We monitor, in real-time, how your calls appear on all major wireless handsets. Therefore, we can gain immediate insight into mislabeling or potential blocking on your Caller ID number(s).
In the event of a mislabel or potential blocked decision, we will remediate the situation in real-time, defending how your calls appear on over 50% of the wireless handsets in the USA.
SHAKEN SIP Trunking
As an Authorized STIR/SHAKEN Service Provider, QVD terminates directly to other SHAKEN carriers. We digitally sign & deliver your calls with full attestation. As a result, customers will know the call is verified when a checkmark displays on their handset.
With nearly 175 million unwanted robocalls made last month, call centers don't have time to delay legitimizing their business or those they do business for. Thankfully, there are solutions that will increase answer rates, instill confidence in customers, all while protecting your brand.
Protect the reputations of your brand and any brand you communicate for. Get the tools you need to maximize answer rates, protect your reputation, and successfully execute outbound calling campaigns with Trusted Call Completion®. On average, our customers have seen a 48% increase in answer rates.
About QVD
Founded in 2010, Quality Voice & Data, Inc. offers secure and reliable cloud-based telecom switching and VoIP services for customers nationally. This includes local Caller ID numbers, IVR, PBX, SMS & MMS messaging, Conference Calling, Compliance Phone, Monitoring & Remediation services, and SIP trunking with Shaken Attestation. Our Trusted Call Completion™ service is known for maximizing our customers' answer rates and protecting their reputation. Visit us at www.qualityvoicedata.com