By Angela Garfinkel, Director

Every DID Number is not created equal
A DID Number is the ten digit phone number that represents the phone number that an individual or business receives an incoming phone call. Most outbound call centers and telemarketers utilize multiple numbers for their outbound caller ID display. The reasons and details can be accessed in one of our previous blog posts titled, Caller ID Management for Dummies.
When buying DID Numbers from a bulk DID Number provider, like Quality Voice & Data, you can be assured that each DID Number will be premium DID Number. If you do a quick Google search for free DID Numbers, you won't find any US providers with a track record supporting high volume outbound call campaigns. If you search for cheap DID Numbers, there are companies selling DID Numbers. However, don't be fooled. Make sure that your DID Number provider is set up to give you both inexpensive and premium numbers.
Premium phone Numbers have these characteristics:
The phone number has been rested for at least six months and preferably one year.
The phone number has an area code that is generally recognizable to people located in the region you are calling.
The phone number has been stored in the National CNAM Database with a 15 character name that is recognizable to the called party.
The phone number is not associated with any phone numbers on the Federal Trade Commission's black list or in the common spam labeling databases.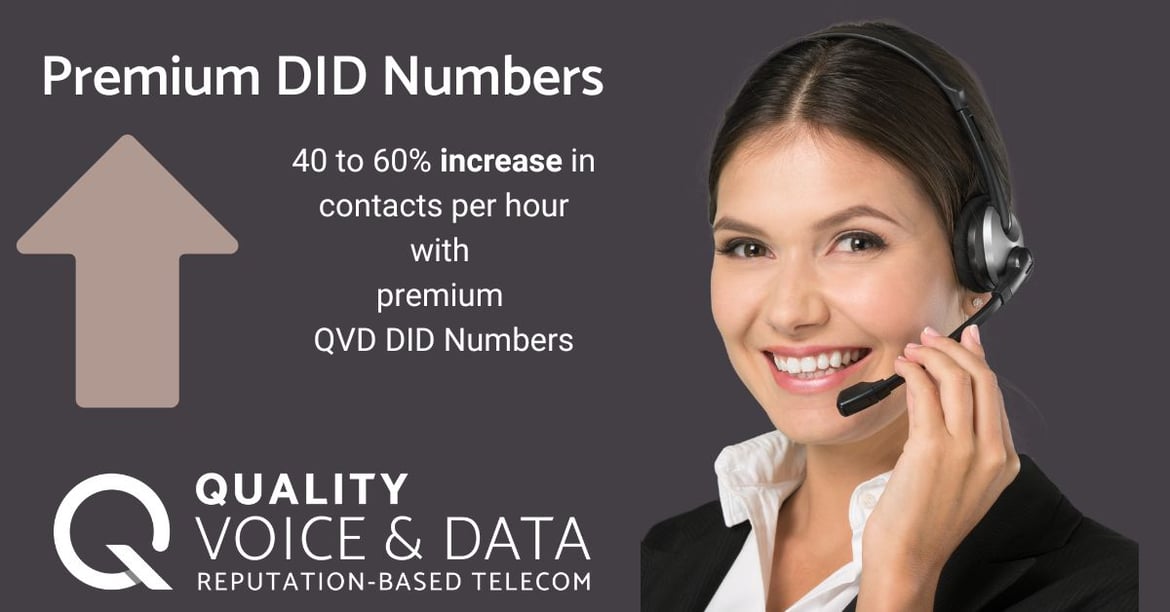 A DID should be rested before being reassigned
Some DID Number providers do not carry a large inventory of numbers. This results in the same numbers getting reassigned over and over again to different customers in a short period of time. Here at Quality Voice & Data, we rest phone numbers a minimum of one year before reassigning a number to a new customer. The benefit is that the phone number starts with a positive reputation instead of a negative reputation when a customer starts using the new number. Technically a new number has a neutral reputation, but because QVD stores all customer numbers in the Monitoring & Remediation database, each number assigned by QVD has a positive reputation on day one.
A Premium DID Number is from a recognizable area code
A DID from the 212 area code is significantly better than one from an area code overlay in the New York City market. A number from the 312 area code is much better than one of the new area codes created for the Chicago market growth. Why is there a difference? It's because we inherently trust a company that has a 212 area code or a 312 area code, or any legacy original area codes throughout the U.S. If a company has a 'new' area code, it will typically be unrecognized as a local area code, decreasing the likelihood that the call will be answered.
The CNAM stored with a DID Number makes a difference
You get 15 characters to introduce yourself to the people you are calling. This is like wearing a name tag at a business networking event. QVD stores each DID assigned to a customer in the National CNAM Database. The team at QVD has 15+ years of expertise to assist each customer with the best name to store, to maximize the answer rate. I recently wrote a blog post that's entirely about that topic, "Caller ID CNAM Best Practices".
Some numbers are just plain bad
Here at QVD, before assigning a DID Number to a customer, the DID Number is screened against the Federal Trade Commission's blacklist and against the common spam labeling databases. If the DID Number has a negative reputation, the number is not given to a customer.
How much does a DID Number cost? Plus how to measure Return on Investment for premium bulk DID Numbers
In summary, all DID Numbers are not equal. Using a high quality DID provider like Quality Voice & Data is well worth the investment (we charge $2.00 per number per month) because any incremental increase in answer rate. For example, let's say that you have a list of 100,000 prospects or customers spread out proportionally throughout the U.S. Our team will work with you to assign approximately 175 DID Numbers, matching them to the targeted area codes in your list. The cost is $2.00 per number x 175, equaling $350 per month in recurring charges for DID Numbers. Using a fairly straightforward list of assumptions (you can tweak them to fit your use case), here is how to figure the ROI:
| | | |
| --- | --- | --- |
| | Typical DID Numbers | Premium QVD DID Numbers |
| Contact Rate | 5% | 8% |
| Contacts Per Hour | 5 | 8 |
| Contacts | 40,000 | 50,000 |
| Labor Hours | 8,000 | 6,250 |
| Labor Cost Per Hour | $18.00 | $18.00 |
| Labor Cost | $144,000 | $112,000 |
| DIDs Cost Per Month | $350 | $350 |
| Cost Per Contact | $3.60 | $2.25 |
We're offering a free Return On Investment analysis.
And here's one last thought. When you become a QVD customer, our turnaround time is 15 minutes or less for small orders and less than two business days for large orders (200+ DID Numbers). Our customer care and provisioning team are standing by to assist you today.
Angela Garfinkel currently serves as Director for Quality Voice & Data. With 30+ years of call center and business process outsourcing experience, Angela provides the QVD team with key insights to support product development, marketing and sales. In addition, Angela teams up with Dean Garfinkel for strategic planning and leadership development. In addition to founding Quality Contact Solutions in 2007, Angela also co-authored an online course for The Direct Marketing Association (DMA) called Teleservices. Angela's formal educational background includes a Masters in Business Administration and an undergraduate degree in Telecommunications Management from the University of Nebraska.