By Steve Eveland, VP of Sales
When it comes to STIR/SHAKEN telecom carriers, all carriers are not equal
The Federal Communications Commission (FCC) gave voice carriers time to complete the STIR/SHAKEN telecom carrier, but not all carriers have completed the implementation.
In my role as Vice President of Sales over the past nearly two years, I've found that there is significant confusion about how to know if your STIR/SHAKEN telecom carrier is fully compliant. While some carriers are 100% compliant and deliver their customers' calls with an A Attestation (full attestation), other carriers unfortunately either don't have signing authority and/or they don't have SHAKEN routes to all the major carriers.
I've found that if a customer asks the right questions, it can streamline the task of answering the question, "Is my STIR/SHAKEN telecom carrier really SHAKEN compliant?"
Steve's top 4 questions to ask your telecom carrier about STIR/SHAKEN:
1. Are they an authorized SHAKEN service provider?
If you don't hear a confident "Yes," you should be concerned. When they deemphasize the importance of STIR/SHAKEN, you should be concerned. If the subject is quickly changed, you should be concerned. How can you confirm if they are SHAKEN?
Check the iconectiv.com website to verify that the list of authorized SHAKEN service providers includes your carrier.
Trust but verify STIR/SHAKEN status! Make test calls from your dialer. We can help you test at no cost, with same day eye-opening results.
We can tell you if you have tokenized calls (digitally signed), and which level of attestation your calls received (A – Fully Verified, B – Partially Verified, C – Not Verified). Call blocking is common with unverified calls. Algorithms still impact partially verified calls. Fully verified calls display a checkmark on all major wireless carriers' handsets. Verified calls give peace of mind to the recipient that the call is from a legitimate company for a valid reason.
Confirm their calling routes for outbound dialing. Are they set up for best-cost routing, or is their priority to have fully SHAKEN routes? Most legacy carriers are set up to automatically route calls based on best-cost routing. As a result, the SHAKEN header (token) is often stripped on its way to the wireless handset. There is no value to tokenizing (digitally signing) a call if it doesn't make it to the wireless handset.
2. Does your STIR/SHAKEN telecom carrier offer you the ability to lease clean caller ID numbers?
Do they guide you on the best caller ID strategy for area code mapping? Do they share with you the major reasons the algorithm companies are blocking and tagging your calls, and then recommend a dialing strategy to sidestep those landmines where possible?
3. Does your STIR/SHAKEN telecom carrier offer you a number reputation monitoring service?
Do they proactively respond to issues by repairing and replacing caller ID numbers when flagged? Do they guarantee that you'll see an increase in answer rates? Have your contact rates trended up or down since they've been your carrier?
4. Does your STIR/SHAKEN telecom carrier share with you detailed CDR reporting?
Do they meet with you regularly to discuss how to improve answer rates based on this data?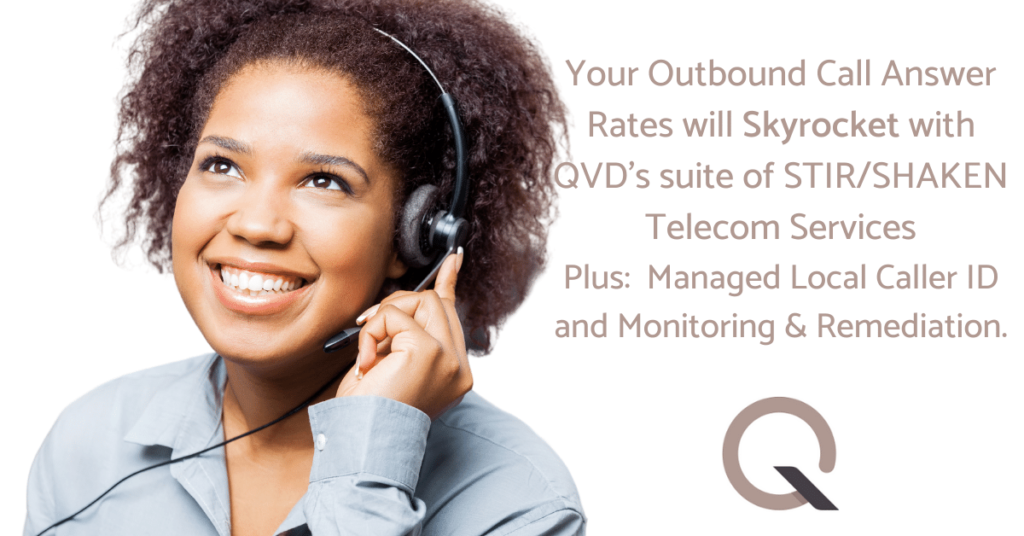 Because QVD is an authorized SHAKEN service provider, we offer:
Local Caller-ID Numbers
We design a CID strategy based on your program to maximize contact rates. Above all, our goal is to help make your OB calling appear less "transactional" in nature. We rest all assigned numbers for 1 year and verify them against reputation databases before issuing them to you. These databases tell us how the algorithms rank your numbers. We then store the display name in the CNAM database, as the carrier of record, for each number. This provides an additional positive data point for the algorithms. Our goal over time is for you to have a static set of numbers with a positive reputation. Eventually, you'll be replacing very few each month.
Monitoring & Remediation
Because we're an authorized SHAKEN service provider, we're able to load your numbers into the largest of the authentication hubs, which helps to ensure your numbers have a positive reputation (algorithm decision ignored) to > 50% of the handsets in the U.S. (Verizon, Sprint, US Cellular and dozens more smaller carriers). For the other 50% (AT&T and T-Mobile), we use the real-time monitoring. We work with you to either repair or replace numbers flagged as having a negative reputation before they negatively impact contact rates.
SHAKEN Elastic SIP Trunking
You and your clients can use QVD as one of your telecom providers for non-ATDS (TCPA) dialing to wireless devices. We tokenize (digitally sign) your calls to ensure that they go through to wireless handset with full (A) attestation and display as "verified" (or a checkmark) on all major wireless carriers. Instead of having negative tags or blocking your calls, your calls will be positively tagged. As a result, this builds trust with customers and gives them confidence to answer the phone.
If maximizing contact rates and protecting brand reputation are the priority for your company, give us a call. Our clients are seeing an average increase of 38% in contact rates using a combination of our solutions. We work with hundreds of companies like yours who return each month. That's because what we do, and how we do it, really works. So, try us out and see the results for yourself. The return on investment with QVD outperforms the competition every time!
About the author:
Steve Eveland is Vice President of Sales for Quality Voice & Data, Inc. With a broad background as an executive level global BPO operations professional, Steve advises clients in best practices that improve outbound call answer rate, reduce call blocking, and reduce spam mislabeling. Prior to joining QVD, Steve worked for industry giants including Zero Variance, Avantive Solutions, PayPal, Transcom and APAC.